Main Office Construction
Construction Notice: On Saturday, July 20th the drive thru ATM lane at our Main Office will be partially blocked by trucks, however the ATM will still be accessible during this time. After we close for business (1:00 PM), the entire south side of the building will be blocked off and only the walk up ATM at the front of the building will be available.
We are so excited for the upcoming improvements to our Telegraph Main Office!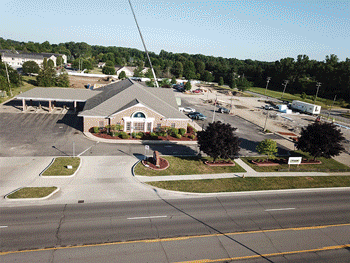 Main Office as of July 12th
In the coming months we will be:
Renovating our Main Office lobby and member service areas

Expanding and repaving our parking

lot

Expanding the footprint of our existing office

Constructing a new building to create a Main Office Campus

This new building will include a community room and sorely-needed back office space

Installing two state of the art drive thru

ATMs

Replacing the roof on our existing office
This major investment into our community will be a welcome boost to the local economy and a testament to MCCCU's stake in our hometown.
We have every intention of being open for business as usual throughout this process, though we already anticipate that some Saturday lobby hours will shift to our Winchester location. When this is the case, we will post notices as soon as possible. We want to say thank you in advance for working with us through these exciting upcoming months--it will be well worth it and we can't wait for you to see the end result!
Construction updates:
Go to main navigation