Main Office Construction
Construction Notice: Our Main Office will be closed on Saturday, November 23rd in order to accommodate some of the heavier construction to our member-facing areas. Saturday lobby hours will be held at our Winchester location.
We are so excited about the improvements being made to our Telegraph property!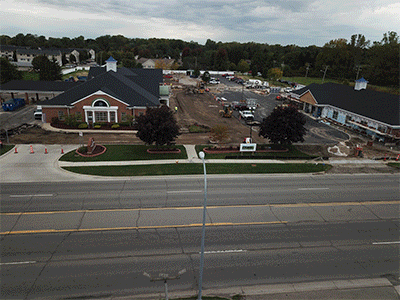 Main Office on October 11th
In the coming months we will be:
Renovating our Main Office lobby and member service areas

Project started October 11th

This leg of construction has resulted in our Main Office lobby being only partially accessible. We strongly recommend visiting our Winchester or Newport locations while this part of the project is underway.

Expanding and repaving our parking

lot

Project completed October 26th

Expanding the footprint of our existing office

Project estimated to be completed in December

Replacing the front entrance with ADA-compliant doors

Project completed November 11th

Constructing a new building to create a Main Office Campus

Project estimated to be completed in December

This new building will include a community room and sorely-needed back office space

Installing two state of the art drive thru

ATMs

Project completed November 1st

Replacing the roof on our existing office

Project completed on August 9th
This major investment into our community will be a welcome boost to the local economy and a testament to MCCCU's stake in our hometown.
Beyond our upcoming planned weekend closure (Saturday, November 23rd), we have every intention of being open for business as usual throughout the remainder of our construction project. We want to say thank you in advance for working with us through this exciting time--it will be well worth it and we can't wait for you to see the end result!
Construction updates:
Go to main navigation